Can I just start by saying that this trip was a LONGGGGG time coming?! We have been planning it since February of last year and we finally made it happen at the end of September. That was a long countdown (Trust me, I almost made a paper chain of days but figured it would be depressing).
We had been talking about a "friend" trip to Disneyland for almost our entire marriage so it was so fun to have it finally come together!
We left the day after my birthday around 11 to make the trek. Jared and Sam offered to drive since they have the most fuel efficient car. It was definitely good on gas mileage but it was definitely a bit cramped. We pulled out of their driveway after we had loaded everything up and the bottom of the car scraped on the cement. Nice. I bet we had 800 lbs of people and STUFF loaded in there. Good thing we are such cool people though or the drive would have sucked. We had a blast chatting, napping, and eating our road trip goodies.
We stopped in St. George for some lunch at Chick-Fil-A and then continued our adventure. We had to play lots of random car games but it went by fairly quickly. We pulled into the hotel late Thursday night and completely zonked out. We woke up FIRST THING the next morning to make sure we got to Disneyland/California Adventure when they first opened.
We thought about trying out our luck for a Radiator Springs Fast Pass, but the line was SSOOO long so we decided to just try getting on in the single riders line. We only waited for maybe 15 minutes and got on! We ended up utilizing the Fast Pass system for other rides, but the single riders line treated us very well both of those days. We almost always lucked out and got on in couples so we didn't have to ride with all strangers.
We enjoyed Dole Pineapple whips, Mickey beignets, and other goodies. We packed our own lunches to save some money which ended up being a really good idea. We ate dinner at the park both nights, which wasn't TOO expensive, but it was worth it to save where we could.
Both days we were there from 9AM until the Disneyland closed at midnight. It made for REALLY long days, but we sure did get our money's worth. We were able to get on every single ride we wanted to several times. The longest line we waited in was for the Haunted Mansion (which was decorated for Halloween, and it was about 40-45 mins. September is a really awesome time to go! The weather was a PERFECT 70 ish degrees, the lines were pretty short, and it's decorated for Halloween which was super cool.
Another thing I want to remember about the trip was Riley's sunglasses getting lost. He brought them with us the first day in my backpack, but it ended up being pretty overcast most of the day so he didn't use them. He remembered seeing them in between California Adventure and Disneyland, but when we went to leave the next day, they were nowhere to be found. The backpack we were using has kind've flimsy straps keeping items in the front pockets so we determined that his glasses and the case must have fallen out on a ride somehow. It put a huge damper on Riley's spirits because they are his favorite pair. Not to mention they're Ray Bans so they were almost $200 glasses. Nice. Before going into Disneyland for the day we decided we would try our luck at the lost and found. Riley had pretty much already told himself he could kiss the glasses goodbye, because what were the chances of them being returned? The odds were pretty astronomical, but I talked him into checking JUST to be sure. Well, long story short when we went to guest services the lady was able to find them! We could NOT believe it!! I thought Riley was going to cry tears of happiness over someone's honesty. She had no idea when, where, or how they had been found but they were still inside the case in perfect condition! The case was a bit scratched up (probably from falling around on a ride or something) but the sunglasses were there. Needless to say the trip was made!
Now for the fun part... a few pictures!!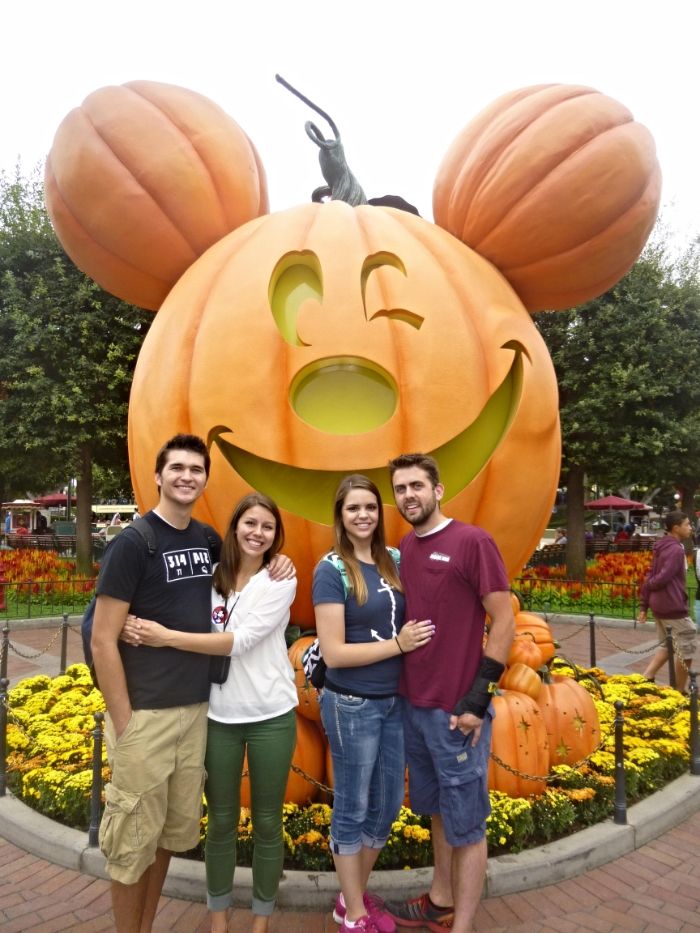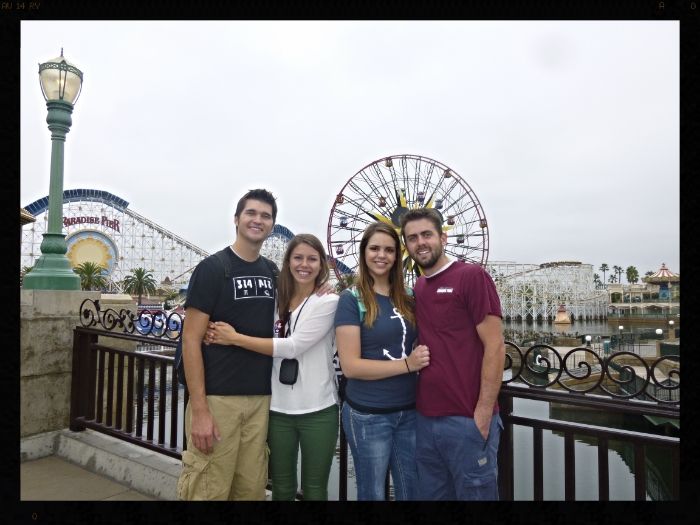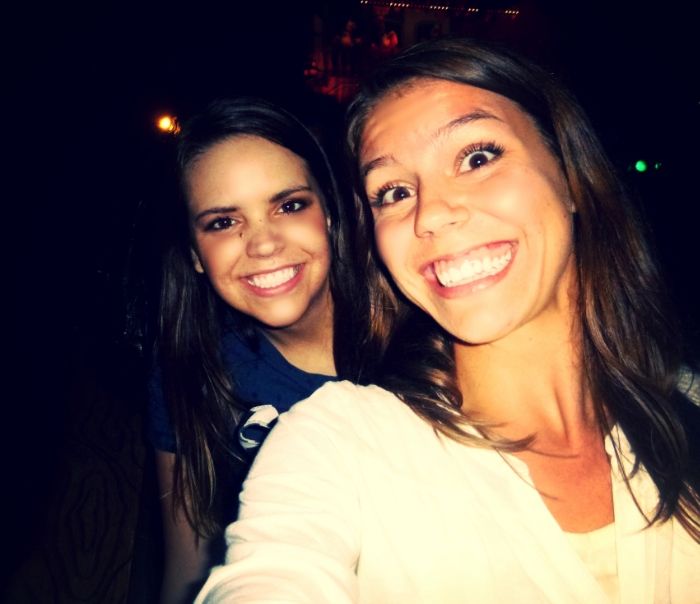 Before the "It's a Bug's Life" show! Riley and I were so excited to take Jared and Sam to see this show, since they'd never been. Didn't disappoint, it's always so cute!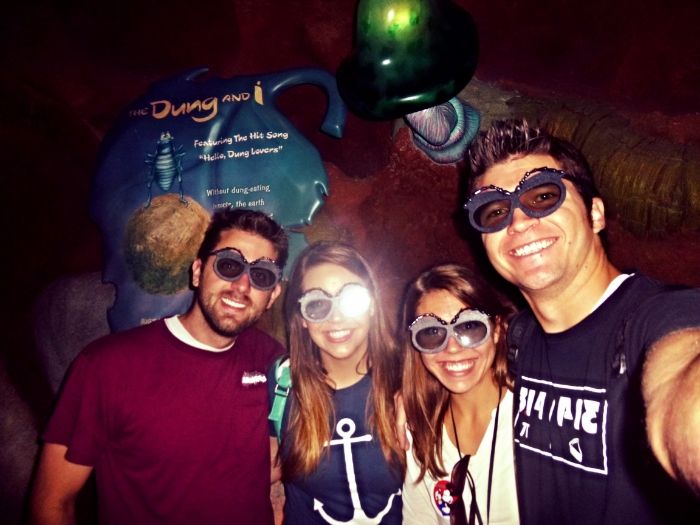 Here is one from Splash Mountain. We rode this ride like 15+ times. Totally worth it. (Also, a few of our pictures from this ride "Washed Away". I'm pretty sure they didn't like our poses... HA!)
This photo was taken on one of the two times we broke down on Indiana Jones. Luckily we were at the VERY end of the ride, so when they had to turn the lights on it didn't take away any of the mystery. I was thankful for that because Indiana Jones is my hands down FAVORITE ride. (We also rode on this one like 10 times). We missed our Fast Pass time for Radiator Springs the second day sitting on Indiana Jones, but luckily when we told the ride operators they were nice enough to call over and make sure we got on.
Sidenote: We also broke down on the Tower of Terror. Which really was horrifying, because I was sure we would plummet to our deaths. We had the worst luck with rides, I swear!
The boys were in absolute heaven in Cars Land.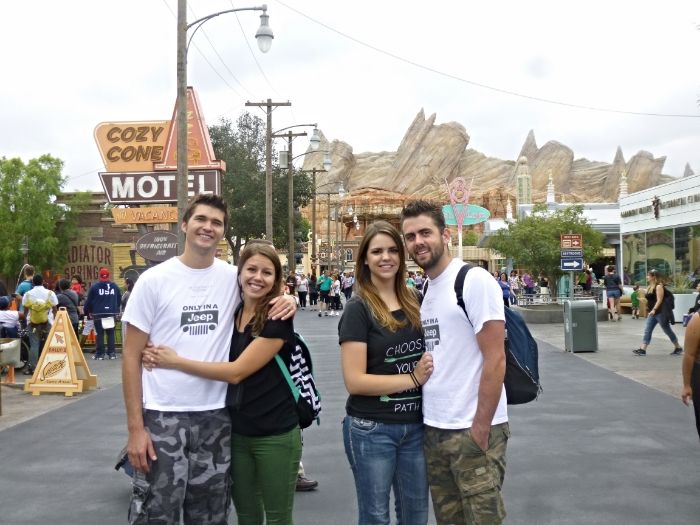 Please notice their matching outfits. Spam and I call them "Thing 1 and Thing 2" for a reason...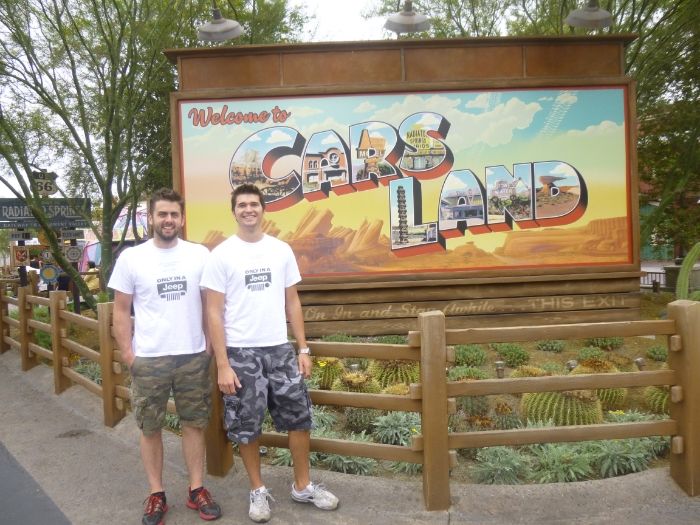 Here is our favorite part of the trip: the ride photos.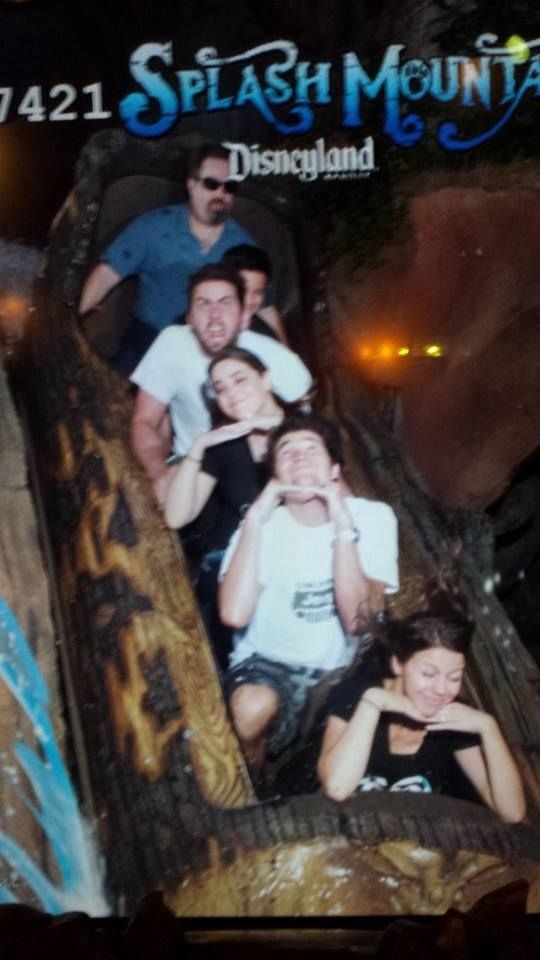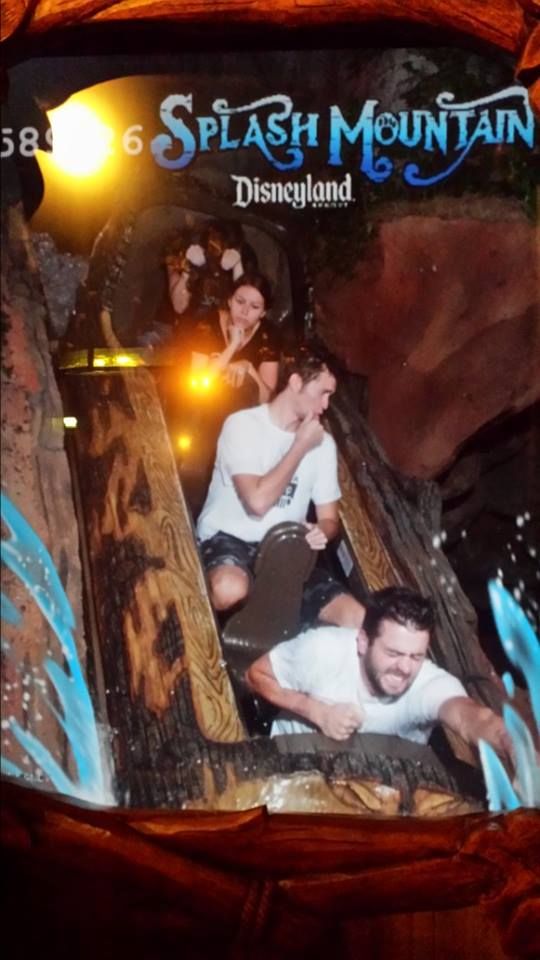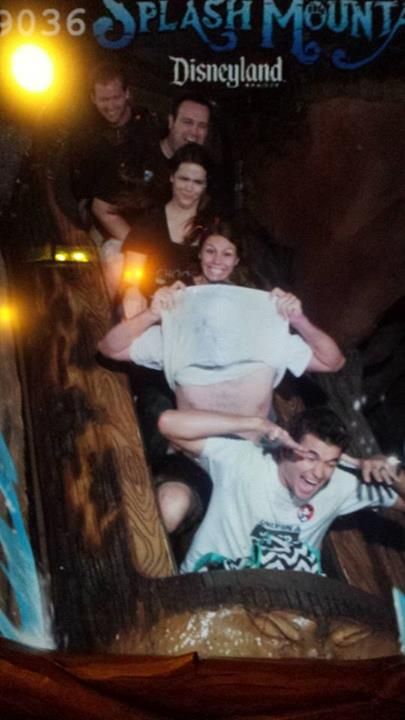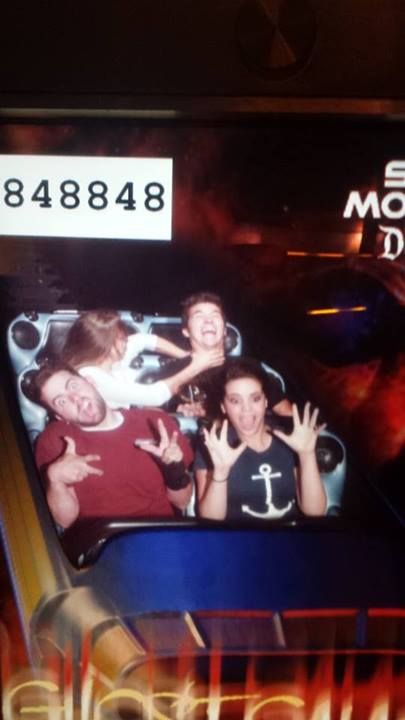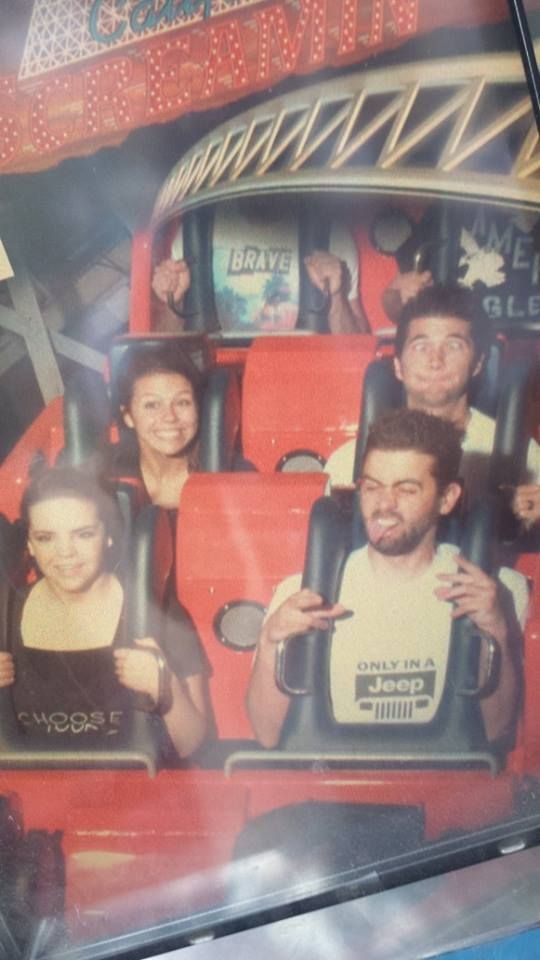 As you can tell we had an awesome time. We really lucked out with some good friends who put up with our crazy. (And are pretty weird themselves!)
The countdown to our next trip will begin soon enough!